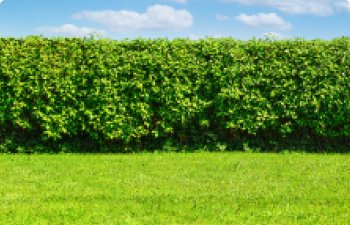 Do you avoid your outdoor living space because your yard lacks privacy? Regardless of how beautiful your landscape is, you may be reluctant to actually use it if you feel like your activities are on display to nearby neighbors or strangers passing by. It can be especially hard to relax and enjoy your natural surroundings if you feel exposed in your own backyard. How can you create privacy and sanctuary on your existing property? Privacy trees are an excellent solution!
The Benefits of Privacy Trees
There are numerous reasons why trees can create the best privacy compared to a wooden or metal fence. First and foremost, they are natural, which means privacy trees can blend aesthetically with your landscape. They can shield your yard from onlookers, buffer sound and light as well as promote healthy biodiversity on your property. Privacy trees are the perfect way to create solitude without adding harsh materials or hardscapes to your natural environment.
Best Trees to Plant for Privacy
There are two broad types of privacy trees: evergreen and deciduous. Evergreens offer a dense and consistent look as privacy trees, but they also have the unique ability to maintain their foliage year-round so that your privacy is secured through all seasons. Deciduous trees also create an attractive and colorful privacy screen. While these types of trees come in countless varieties, deciduous trees do go dormant in the late fall and winter so you may feel more exposed during these months of the year.
What specific variety of privacy is best for you? The following trees are often chosen for their ability to provide effective privacy. These are listed in the order of fastest growing:
Leyland Cypress
Thuja Green Giant Arborvitae
Thuja Emerald Green Arborvitae
Nellie Stevens Holly
American Holly
White Pine
Blue Ice Arizona Cypress
Blue Point Juniper
Choosing the Right Privacy Trees for Your Yard
As a property owner trying to select the best type of privacy trees, you must consider your unique goals, budget, space size, yard slope and other factors. At Pannone's Landscaping & Lawn Pros, we'd love to help you. We can explain your options as well as what you can expect from each tree variety. Call our Cumming lawn experts today to schedule your consult about privacy trees!>