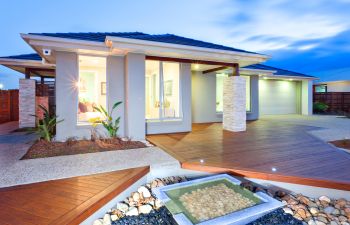 What if you could heat up your backyard and make your landscape a more useable space during the cold winter months? More and more homeowners in Georgia are doing just that by installing an outdoor fire pit. While there are several different types and sizes of fire pits, one that is custom-designed to your needs can give your family lasting enjoyment while maximizing your landscaping investment through all seasons of the year.
Like any hardscape design and installation, it is important to consider a few important factors before choosing the best outdoor fire pit. First and foremost, homeowners should be aware and committed to the safety and legal aspects of owning a fire pit, which includes rules for how close your fire pit can be to your home and burning codes for the state of Georgia. Beyond safety parameters, however, here are some basic guidelines to help you get started.
In-Ground Versus Above-Ground Fire Pit?

It will be important to first decide whether you want your fire pit to be built in the ground for a more discreet appearance and "bonfire feel" or one that is portable and rests above the ground for more versatility around your backyard and better heat radiance. This is largely a personal preference and what fits your lifestyle best.

What Size Fire Pit Do I Need?

While portable fire pits are preset in size, you'll need to establish specific measurements for a fire pit you are installing in the ground. To help determine your ideal fire pit size, ask yourself the following:

How many people should be able to sit around it?
Do I want my fire pit to entertain large groups or be a more intimate or exclusive space?
What size fire pit can my landscape or patio support?

What Material Should I Use In My Fire Pit Construction?

In general, homeowners decide between a natural stone fire pit and a brick fire pit. Natural stone offers a more rustic look, but brick can complement the construction of your home or surrounding hardscapes. Be sure to consider the overall appearance of your landscape and home before deciding on a material for your fire pit, as both materials are incredibly durable and handle heat with ease.

Natural Gas, Wood Burning or Propane Fire Pit?

How much luxury do you want when turning on your fire pit? If you want to be able to create an instant fire at a flip of a switch, a propane or natural gas fire pit is preferable. However, if you enjoy the smoke and sparks of a "real fire," you may want to opt for a wood burning pit. The cost of each varies and the safety hazards, convenience and whether or not you want to cook on your fire pit should also be carefully considered before deciding on propane, natural gas or wood.
Expert Fire Pit Installation
At Pannone's Lawn Pros & Landscaping, we bring years of experience and knowledge to your fire pit design and installation. Still not sure about the size or type of outdoor fire pit that is best for you, let us help. We are happy to show you samples of our prior work in outdoor fire pits.