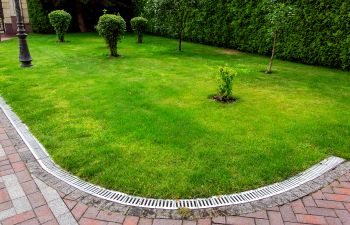 Are you forced to avoid your lawn after a hard rain due to soggy grass or standing water? You may have a drainage problem that needs to be addressed. Water that doesn't get dispersed or can't drain easily after a downpour can cause more than just an inconvenience. In fact, standing water on your lawn can contribute to mosquitos, turf disease and even damage to your home's foundation. At Pannone's Lawn Pros & Landscaping, we offer solutions to your drainage issues. To implement a successful fix however, we must first determine the cause of your soggy yard.
Why is Water Pooling on My Lawn?
The most common cause of standing water on your lawn is a sloped property or uneven grade. When sloped the wrong way, water can accumulate in the wrong places, including your home's foundation. A prompt fix is important to avoid costly repairs.
Another culprit for a puddled lawn is your soil. When soil is too compacted, it is unable to properly absorb after a rainfall. This can lead to breeding mosquitos and other insects that can sabotage your outdoor fun.
How to We Prevent Standing Water
Don't worry; there are some very effective drainage solutions for stagnant water in your yard. The following tactics can keep your lawn healthy and thriving by directing rainwater away from your prized turf:
Regrade your property (change the slope)
French Drains
Dry Creek Beds
Core Aeration (to eliminate compacted soil)
Ready to say goodbye to your lawn puddles? We can help. Call our Cumming lawn experts today to learn more about our affordable drainage solutions.