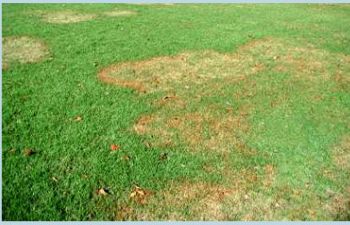 When it comes to your Georgia lawn, there are a number of things to watch out for. Brown patch disease is among the most common. In fact, a growing number of Georgia lawns are impacted by brown patch each year. This particular fungus was detected in 85% of the turf samples recently sent to the Plant Disease Clinic at the University of Georgia Plant Disease Clinic. Most lawn diseases can be properly treated and managed. However, as with any disease, it is best to identify it and treat it early for the best possible results and minimal damage.
Brown patch is caused by the fungus Rhizoctonia solani. Like other turf diseases, it favors high humidity and wet, damp conditions. Therefore, it is important to take steps to help your turf dry quickly after irrigation. This may involve fixing some drainage issues in your lawn or simply watering in the morning instead of late in the day to ensure the leaf blades dry more rapidly.
In addition to moisture, brown patch can also be encouraged by poor fertilization, either too much or too little. Hire a professional if you are unsure about how to keep your lawn nutrient levels balanced and moderate. Heavy nitrogen applications are another major culprit to brown patch disease.
Brown patch is most commonly seen from late April through October and can be identified by a circular pattern of brownish grass that is a few inches to several feet in diameter. These areas of weakened grass may appear gray or black in the early morning hours.
There are many ways to treat brown patch disease. If you are unsure which product to choose or want to prevent future brown patch invasion, please call the professionals at Pannone's Lawn Pros & Landscaping. We have a variety of budget-friendly options to ensure your turf stays healthy and vibrant this summer!