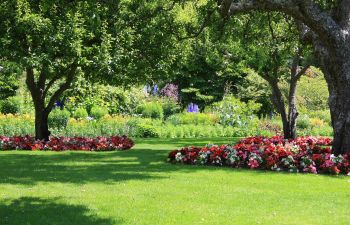 Considering a new turf? There are many different sod options available, and it can be overwhelming to narrow down your choices. Topping the list of sod types is Bermuda Grass. Bermuda Grass is the most commonly used warm season grass in the United States. Despite its name, Bermuda Grass actually originated in Africa before it was brought to the southern states.
Perhaps the most talked about feature of Bermuda Grass is its ability to grow very fast. In fact, this is its worst and best attribute. If you want or need a grass that is easy to grow and you don't have time to wait around, then Bermuda Grass is the way to go. Why does it grow so much faster than other sod types? Unlike other grasses, Bermuda contains rhizomes, which are underground shoots that regenerate new plants when they are cut up.
This regenerative power and speedy growth can also be looked upon negatively. In fact, Bermuda Grass is considered a weed by some people. It can even be difficult to get rid of since it can essentially grow a new plant every time it is cut (during mowing) as well as with seeds. Bermuda Grass can require some extra effort to keep it under control.
On the bright side, Bermuda Grass is rather resistant to pests. Before the insects have really done any lawn damage, the grass blades grow back. In addition, Bermuda Grass is also drought-tolerant, which makes it an ideal turf for athletic fields. Lastly, this "weed" type grass may also carry health benefits. Its antimicrobial and antiviral properties have proven beneficial for medicinal purposes.
Whether you see more of the pros or the cons of Bermuda Grass, the decision is up to you at the end of the day. Many times it comes down to personal preferences as well as your specific landscaping needs. If you are unsure which type of sod to lay for your home or business, contact the experts of Pannone's Lawn Pros & Landscaping. We are happy to discuss the advantages or disadvantages of Bermuda as it pertains to your yard.