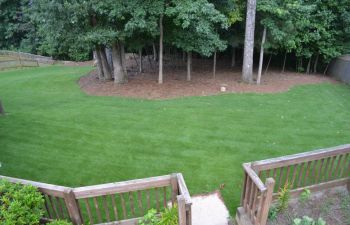 Your trees can be one of your oldest and most valuable assets, but they can also be your biggest liability. Dying trees that are not removed in a timely manner can fall down, damaging surrounding property or even hurting someone. OSHA (the Occupational Safety and Health Administration) reports that on average, there are over 100 landscape and tree fall fatalities every year.
How do you avoid fallen tree damage? Consider a professional tree inspection. At Pannone's Landscaping and Lawn Pros, we offer a full menu of tree services to help you protect your trees, your property and your family. The following tree services can help you avoid a dangerous tree accident:
Hazard tree removals – includes any trees that are dying or posing a threat to nearby structures on your property
Storm damage cleanup –we can evaluate the health of your trees after a big storm, including the ones that did not fall but were damaged and may fall later.
Pruning – to prevent overgrowth, allow healthy sunlight and help you avoid a potentially hazardous situation with limbs against power lines, a building or fence.
Insect and disease control – we will make every effort to nurse your sick trees back to health so that they don't die off and fall down.
How safe is your yard? How long has it been since you had your trees inspected? Don't wait until serious damage occurs or someone gets hurt by a falling tree. Schedule your tree service with Pannone's Landscaping and Lawn Pros today. Put simply, healthy trees can be a luxury, but unhealthy trees can be a major liability.