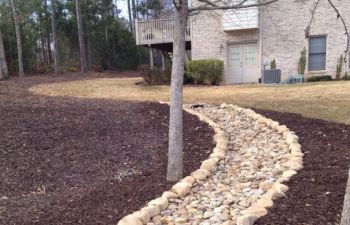 If your gutters are not installed properly or incorrectly sized for your home, it can cause flooding on your lawn. Not only does flooding ruin your landscape, but it can also cause problems with the foundation of your home. Consider these budget-friendly water runoff solutions to protect your landscape investment from gutter problems:
Gutter Extensions

Rather than replace your entire gutter system, you may be able to effectively divert the flow by installing a drain pipe extension to your current gutters. These are easy to install and typically found at your local hardware store. You'll first need to determine exactly where you want the water to flow. In most cases, adding a few feet to your downspout around problem areas (walkways, courtyard, etc) will do the trick.

Rain Chains

If you do not have a downspout or it isn't working correctly, you may want to consider a rain chain to help control heavy amounts of rainwater. A rain chain is a series of decorative cups or bells that provide both aesthetics and purpose. Water must trickle through the chain elements as it falls from your roof, which reduces the amount of steady stream water that hits the ground.

Water Reservoir

Another option is to simply put a small reservoir under your downspout to collect the rainwater and prevent it from hitting the ground and damaging your lawn. If you want to be resourceful, use this collected water to water your garden in the future.
At Pannone's Lawn Pros & Landscaping, we are experts at helping customers remedy their drainage problems. Don't let your hard work or major investment in your landscape get ruined due to improper drainage on your property. We can give you gutter tips and provide drainage solutions for all types of lawns.