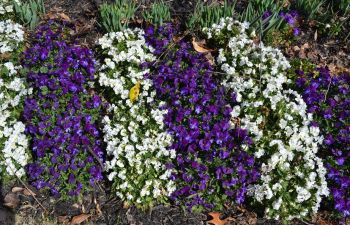 Either from lack of time or lack of know how, your flower beds can suffer. Unfortunately, not properly maintaining your beds can make a dramatic impact on the appearance of your overall landscape. Properly cared for flower beds can keep your property looking beautiful and bright. Are you neglecting yours?
If you notice the following signs in your flower bed, you may need professional lawn maintenance and/or seasonal planting services:
Weeds
Compacted soil
Wilted plants or flowers
Sloppy edges
It can be difficult to keep your beds attractive and healthy through every season. Changing temperatures, varying moisture levels and even animal problems can alter the demands of your flower bed throughout the year. In essence, it is not a "one size fits all" approach to caring for your garden or flower bed. That's why many Georgia homeowners turn to a professional landscaping company to ensure their yard retains optimal health and beauty.
At Panonne's Lawn Pros and Landscaping, we can handle all types of concerns and threats to your flower beds. We proudly provide affordable, tailored solutions for weed control, soil cultivation, edge definition, raking, flower care and even "deer proofing". Whether your schedule is too tight or your thumb is just not green enough, we are happy to take over lawn care burdens. Our professionals can ensure your flower beds are a beautiful and valuable asset to your landscape.