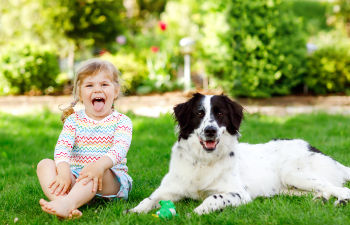 Is your lawn a favorite bathroom for the neighborhood dogs? While you may consider dog poop an eyesore or a nuisance to dodge, it can also be a major health risk to your yard and your family. After you learn the facts about dog poop, you'll be sure to remember your scooper or potty bags next time.
In 1991, EPA not only named dog waste as an environmental pollutant, but they put it in the same category as pesticides! Dog waste contains parasites that are dangerous to your plant life, your other pets and your children. In fact, just one gram of dog poop contains 23 million fecal bacteria!
Lawnmowers Are The Perfect Spreader
Most landscaping companies do not take on the responsibility of removing your dog poop piles before they service your lawn. This means that when fresh (or old) dog waste hits the mower blade, it can quickly spread to all areas of your grass. At this point, it's nearly impossible to clean up. You become susceptible to the countless pollutants and parasites that are now living under your daughter's bare feet as she does cartwheels across the grass or beside the tennis ball you are throwing for your dog in the backyard.
Other Modes of Travel
Even if you are diligent to pick up your poop before you mow the lawn, there is still a major risk that the fecal bacteria has already spread. In fact, this type of bacteria loves to travel through the air on insects and other pests. If no one is willing to pick them up, fecal bacteria can simply move about through the wind. Once they find a new home, they can settle deep within the soil and live another year or more!
What Is at Stake?
How serious are the parasites and bacteria that live and spread from dog feces? Possible conditions include parvovirus, tapeworms, E.Coli and salmonella to name a few. Some of these can cause serious illness in pets and humans, especially babies and pregnant women.
Ready to be a good dog scooper? We hope so. At Pannone's Lawn Pros & Landscaping, we like to educate dog owners about the dangers of not discarding dog waste right away. It is a simply and quick task that could save your lawn and your health.