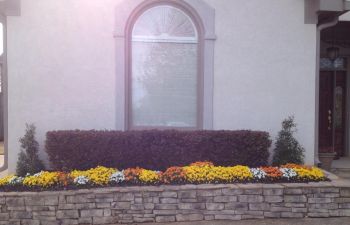 When it comes to the colors of an autumn landscape, we often think of the deep reds, oranges and browns that the changing leaves offer during this season. What you may not know, however, is that there are other vibrant colors that you can bring to your fall landscape. Just because your summer flower bed is not in full bloom or your grass is no longer a luscious green, doesn't mean you must solely rely on the autumn leaves for color in your yard this season.
There are some trusted fall flowers that can offer eye-catching colors to your landscape while staying durable and hardy during the cooling weather.
#1 Pansy
Pansies have long been recognized as an ideal fall flower. This popular annual thrives in cooler temperatures and less light than your spring and summer flowers. Plant your pansies in early fall because this flower typically takes 1-2 weeks to germinate and about 15 weeks to become a full colorful bloom. Speaking of color, pansies come in a wide variety of vibrant colors, including black-violet, sky blue, bright red, golden yellow and more.
#2 Chrysanthemums
While they may be hard to pronounce, Chrysanthemums are one of the easiest flowers to grow in the fall season. "Mums" also offer an expansive range of colors and do best in cooler climates. Whether you choose mums that are wine, goldenrod, rust and orange, you are sure to cheer up your landscape and enjoy this reputable ornamental plant this fall.
#3 Goldenrods
Goldenrods are known for their vibrant pop of yellow against the rust-colored hues of fall. Goldenrod offers depth, texture and color to your landscape while also holding up its beauty through tougher climates. Don't worry; it is a myth that goldenrod is a common source of allergies, so go ahead and plant this fall flower and prepare for a more charming curb appeal.
Need some assistance with choosing, planting or maintaining your fall flowers? Let us help. At Pannone's Lawn Pros & Landscaping, taking care of your residential or commercial yard is what we do best. Call our Cumming team today!