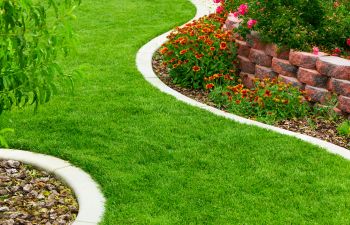 It won't be long until the summer heat kicks in and your landscaping worries begin. The Georgia summers can certainly take toll on grasses, plants and flowers. However, you don't have to settle for a faded and lackluster garden just because the temperatures got hot.
Here are some tips to ensure your garden remains cool, vibrant and lush during the heat of summer:
Irrigate Religiously

Giving your garden water is not something you want to miss during the hottest days of summer. In fact, you will likely need to increase the frequency and duration of your watering methods, whether this means dragging out the hose more often or adjusting the timer on your irrigation system. Keep in mind that watering in the early morning is the best way to drench dry roots before the sun evaporates your efforts.

Choose Blooms That Love the Heat

You may need to reconsider those delicate flowers from the spring. Instead, replace your faded pansies with a flower that can withstand the extra heat. Don't worry; you won't have to sacrifice color. Varieties such as ageratum, pentas, zinnia and Angelonia are beautiful summer bulbs with attractive pops of color.

Protect Your Grass

The key to keeping your grass dense and beautiful all season long is to be mindful of how short you are cutting your grass. Raising your mower blade can ensure your turf has enough leaf surface to protect itself from the harsh sun this summer.

Be Generous With Mulch

A plentiful, 2-inch layer of mulch in your garden keeps the underlying soil cool, moisturized and protected from strong sunshine. Let a landscaping expert help you decide which type of mulch is best. When plants are cooler, your garden is healthier and lusher!
Need more help on getting your garden or lawn through another Georgia summer? Call the experts of Pannone's Lawn Pros & Landscaping.