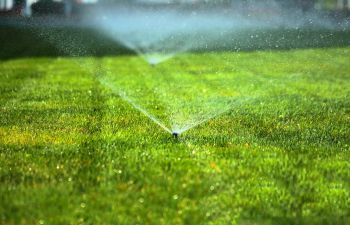 When it comes to the health and beauty of your landscape, irrigation is critical. Your sprinkler system is an important investment that needs to be protected. However, just like any other operating system in your home, it needs proper maintenance and even repair from time to time. Learn these common signs that your irrigation system needs an adjustment or professional repair. Catching a problem early could not only save your sprinkler system, but it could save your landscape as well.
#1 Parched Spots and Soaked Spots
This is a sign of unbalanced coverage from your sprinkler. Uneven distribution of water could cause certain spots to dry out and other areas to become overly saturated. Both are equally harmful to the health of your lawn. A zone adjustment or sprinkler head repair may remedy this problem.
#2 Persistent Dripping From Control Valves
Your control valves are responsible for ensuring the correct amount and pressure of water goes to each zone. If you notice constant dripping or damp areas around the back end of your irrigation system, it needs to be addressed. This could be an indication that your system is clogged.
#3 Sputtering Heads
If your sprinkler heads are sputtering rather than delivering a full spray, you may have a cracked or clogged sprinkler head. This can cause pop-up sprinkler heads to emerge out of position and direct water out of the zone or only in one area of the zone.
#4 Pressure Problems
Your irrigation system needs to maintain proper pressure in order to function correctly. While low pressure may not irrigate your lawn enough, high pressure may cause damage to your system over time. This could be a simple fix on your control panel, or a more involved repair within your irrigation pipes.
#5 A Watered Sidewalk or Driveway
Does your driveway or sidewalk look more watered than your lawn? Consider adjusting your sprinkler zones so that you are not wasting water and causing drainage issues within your landscape.
#6 Change in Landscape
It is common for homeowners to make some upgrades or adjustments in their landscape but forget to alter their sprinkler system afterwards. If you've recently placed new plants or moved a flower bed, always be sure to adjust your sprinkler zones to accommodate for these changes.
#7 High Water Bill
Did your water bill skyrocket last month? Check your sprinkler system. If you aren't noticing outward signs on your lawn that your irrigation is overworked, then you may find the evidence on your water bill. Hire a professional to check for leaks within your system or malfunctioning control valves.
At Pannone's Lawn Pros & Landscaping, we can help you with your irrigation needs. We have experts that are dedicated to the health and beauty of your unique lawn, which always includes proper watering. Get an estimate today!