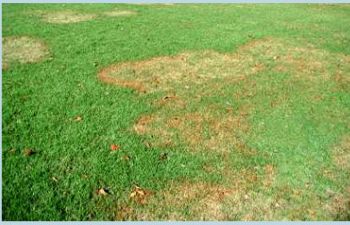 Countless Georgia yards are covered in Zoysia grass. Zoysia is a highly durable grass that looks full and attractive as well. Unfortunately, no grass is perfect. Zoysia is known having a harmful and unsightly disease called Zoysia Brown Patch. This is especially common in the late spring after a wet winter or when damp, overcast weather frequently occurs. You'll confirm Zoysia Brown Patch when you notice that some areas of your turf are not greening up like the rest of your yard during the spring.
Once you know you have Zoysia Brown Patch threatening your landscape, it is important to understand how to control. Since this grass problem involves disease, it can spread quickly if appropriate action is not taken. Here are some quick tips to ensure your Zoysia Brown Patch doesn't take over and ruin your entire yard:
Improve drainage in your yard, especially in low-lying areas.
Implement a slow-release nitrogen fertilizer in your soil's diet.
Decrease thatch build-up by mowing often.
Keep your mower deck clean and fungus-free.
Consider a fungicide program.
Lawn disease can quickly get out of hand and overwhelm the average homeowner. It is no sign of weakness if you decide to hire a lawn expert to combat your Zoysia Brown Patch. At Pannone's Lawn Pros & Landscaping, we have a keen understanding of the common diseases that affect certain types of grasses in Georgia. We can help you eliminate unsightly brown patches in your spring lawn so that you can enjoy your outdoor turf like you deserve!