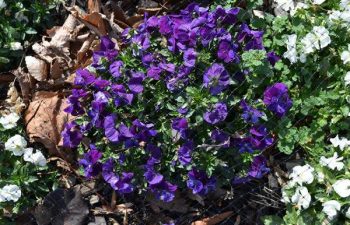 Nothing says spring more than a landscape of colorful spring flowers. However, spring blooms can also be delicate and challenging to plant, especially when Georgia temperatures don't reflect a true season change. It becomes important to learn how to plant your spring flowers correctly. These following easy steps can help you avoid flowers that are late to bloom, never grow or quickly die this spring.
#1 Enrich Your Soil Bed with New Compost
Just like any other living thing, flowers need good nutrition to be successful. This starts with what is in your soil, and your soil needs fresh compost to get a jumpstart this spring. If you don't compost yourself, you can buy this organic product at your local nursery.
#2 Select the Right Flowers
Just because you love the look of a certain spring flower doesn't mean it will grow well in your specific landscape. Not only are there right and wrong spring flowers for Georgia, but you also need to consider the amount of sun and shade your flower bed gets in your particular yard. In general, Atlanta homeowners have success with durable spring flowers such as petunias, begonias, caphaea, and Cajun ruellia.
#3 Mound Your Flower Bed and Plant
Before you start digging holes for your new spring blooms, make sure you create a mound with your flower bed so that rainwater will properly drain off. This can be done by adding additional topsoil mixed with compost.
#4 Add Water and Liquid Fertilizer
Immediately after you have planted your flowers into the ground, it is time to shower them with water and liquid fertilizer to get them started in optimal growth. Liquid fertilizer allows nutrition like nitrogen, phosphorus and potassium to be delivered efficiently to your flowers.
#5 Mulch Your Flower Bed
Mulching with pine nuggets is not only ideal for the appearance of your flower bed, it also offers several valued benefits towards your flower health and growth. In fact, mulch helps to establish the root system, retain moisture in the soil and protect your flowers from extreme temperature changes. 
At Pannone's Lawn Pros & Landscaping, we want to do everything we can to help you create and maintain a vibrant spring landscape. When it comes to planting spring flowers, we are happy to help you with any step of the process – or complete the entire task for you! Call our Cumming lawn care experts today to learn more.