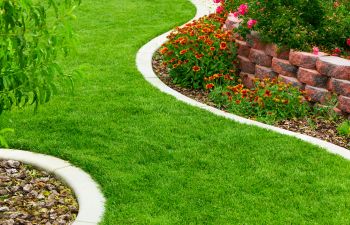 Are you tired of looking at your lackluster lawn? Do you feel that you are losing the battle with weeds or lawn fungus? You may want to consider redirecting your lawn maintenance budget towards artificial turf. Installing artificial turf is a cost-effective and hassle-free option with outstanding curb appeal. Here are the top 5 reasons why families choose to go with artificial turf:
No Watering, Mowing or Other Maintenance

If you are like most Americans, your days are long and packed with countless activities and obligations. If you find it difficult to carve out time to mow your lawn or hassle with an irrigation system, artificial turf is the perfect choice for you. Once it is installed, you can get rid of your weeding and mowing tools for good. You may want to hang on to your blower or broom, as removing leaves in the Fall is typically the extent of your artificial turf maintenance.

Better Place To Entertain and Enjoy Your Family

Artificial turf can often feel as soft and smooth as carpet. This allows your kids to kick off their shoes and play safely and freely in the front or backyard. It also creates the ideal space for entertaining, such hosting a barbeque or kids birthday party. In addition, you won't have to avoid going outside or cancel your outdoor plans after a hard rain.

Attractive All Year Long

One of the biggest returns on your artificial turf investment is the vibrant and healthy appearance it retains all year long. When your neighbor's natural grass is plagued with brown spots and brittle blades during the winter, you can bask in the brilliant green that your artificial lawn holds through all seasons.

Environmentally Friendly

Since this lawn product does not require chemicals, fertilizers or maintenance from gas or electric-powered lawn equipment, artificial turf is considered more eco-friendly. You can even choose a recycled artificial grass option to help the environment even more.

Cost Effective

Without the cost of routine maintenance, including mowing, fertilizers and sod, your monthly lawn expenses are greatly reduced with artificial turf. To free up your budget even more, you can turn off your irrigation system and save on water bills!
If you want professional help in determining the best lawn choice for your yard, please call Pannone's Lawn Pros & Landscaping today. If you still want your natural grass, but don't have time for the maintenance. Our experts proudly offer a full menu of lawn maintenance services that are tailored to your unique needs and preferences.