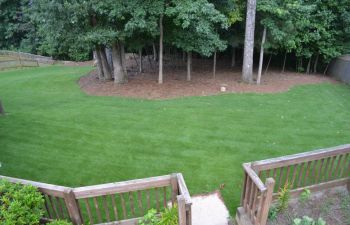 Fall has finally arrived. It is a beautiful time of year as the leaves change color and the air gets crisper. However, it is not a time to just sit back and watch the leaves fall in your own backyard. Your landscape has specific needs that need to be addressed each season. Do yourself (and your neighbors) a favor and don't fall victim to these 5 fall landscape fails:
Don't Neglect Fallen Leaves

You may love the sight of falling autumn leaves. However, neglecting to pull out your rake periodically can result in a yard hazard. A sidewalk or driveway masked with wet, slippery leaves does not provide a safe environment for your family or visitors. Not to mention, you're allowing your existing landscape to be covered up.

Don't Fail to Clean Your Yard Tools

It is easy to just throw your tools in the shed for storage until spring. However, taking the time to clean them properly beforehand can ensure they are in top working condition when you need them next. Extra moisture and soil can corrode your garden tools over time, forcing you to buy a new set by spring.

Don't Ignore the Need to Fertilize

Just because it is fall, does not mean your lawn doesn't need care and fertilizers. Your lawn is still growing, just at a much slower rate. A turf that is well fertilized in the fall is more protected from winter damage. A professional landscaper can help you determine which fertilizer and care routine is best for your specific lawn this fall.

Don't Wait to Plant Spring Bulbs

Now is the time you can plan for the most colorful blooms in the spring. Take advantage of the fall's soft soil and choose some spring bulbs that can be planted now. Make sure you plant them deep enough to protect them from freezing.

Don't Forget About Ground Cover for Color

While your fall landscape may not provide the colorful flowers of spring, there are still ways to make your landscape pop with color. Consider vibrant ground cover such as colored wood or rubber mulch. In addition, ask a professional about specific hedge plants that can show off some autumn hues.
At Pannone's Lawn Pros & Landscaping, we do our best to help you enjoy every season of your landscape. We offer services ranging from yard cleanup and seasonal planting to routine maintenance and mowing.