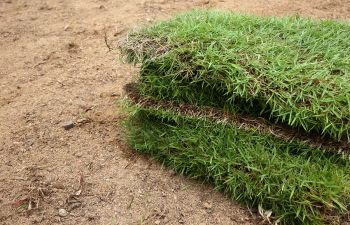 If you are a business owner, don't dismiss the importance of commercial landscaping. The appearance of your outdoor space can be the first impression that your patrons, clients or customers receive about your company. Since your business likely operates all year long, it is critical that you tend to your landscape through all seasons of the year. When it comes to winter, you don't have to relinquish your desire for an attractive landscape. Here are some things to consider to prepare and protect your business landscape as the temperatures drop:
#1 Consider Evergreen Plants

Winter may be a time when your most vibrant blooms go into hibernation, but that doesn't mean you have to suffer through a bleak or lackluster landscape until spring. You can still add valued greenery with small evergreen shrubs and trees. These varieties don't require a lot of maintenance and offer high durability through harsher elements.

#2 Prune Away

Once all of the leaves have fallen from your trees and shrubs, it is the perfect time to prune. A "dormant pruning session" during winter can eliminate dead branches before a hard freeze sets in. This gives your trees a better chance at healthy growth when the temperatures warm up. Keep in mind that pruning should be done carefully and strategically – ask an expert if you are not confident in your pruning skills.

#3 Clear Out Debris

Old stems, leaves and branches that don't get removed during the winter can be the perfect nesting place for decaying bacteria, organisms and disease. Take the time to remove dead foliage in early winter, especially the stems and branches that get stuck underneath your shrubbery.

#4 Plan Ahead

While your landscape does some "resting" during the winter months, it is an excellent opportunity to brainstorm about what you want for your commercial landscape this spring. You can even plant certain bulbs now to ensure they provide a beautiful bloom in early spring.
Ready to Prepare Your Business's Landscape for Winter?
As a business owner, you've got countless responsibilities to keep your company profitable and running smoothly. It is not uncommon for your outdoor space to get neglected or overlooked. However, hiring a commercial landscaper for your property can make a major difference in how your business is perceived. If you lack the time or skill to handle your business landscape on your own, call the experts of Pannone's Lawn Pros & Landscaping. We can prepare your commercial lawn for winter!