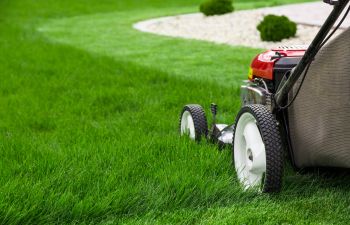 By now, you are likely waking up your lawn mower after several dormant months. Before you get ready to see and smell your freshly cut lawn, you need to make sure your lawn mower is ready to do its job.
Here are four ways to ensure your mower is ready for spring:
Tune Up & Inspection: This step involves many components, but it is very important if you want to be sure your lawn mower will not only crank but keep running well through the season. A complete seasonal tune-up includes changing the oil, replacing the spark plug, and changing/cleaning the air filter. It's up to you whether you want to do the tune-up yourself, or take it to an authorized service center.
Blade Examination: If your blades are not sharp, straight and clean, then your lawn may look patchy and uneven after you are done mowing. If your blade looks dull, get it professionally sharpened. If it appears bent, go ahead and replace it.
Cleaning: For optimal function, clean and wipe down all parts of your mower. Remove the old grass and dirt left from previous seasons and clean up any oil spills. Some mowers benefit from a waxing to prevent grass from adhering to the deck.
Fuel: Last but not least, don't forget to fuel up for your first mowing session. Be sure to follow manufacturers guidelines on the best type and method of fueling your mower.
It's now time to enjoy your spring lawn. If you would rather not have mowing the lawn on your "To-Do List" this spring, you can call a professional landscaper to establish a mowing service. Pannone's Lawn Pros & Landscaping offers many options to suit your needs and budget when it comes to lawn services.