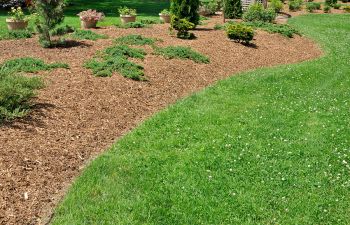 Are weeds overtaking your lawn and ruining the beauty of your landscape? Do you find yourself constantly pulling weeds instead of actually enjoying your turf? Battling weeds can be a daunting task, especially if they are allowed to spread quickly and aren't taken care of promptly. Here are some tips on how to kill weeds and prevent them from sabotaging your landscape this summer:
Mulch: Choose a weed-suppressing mulch on areas of your landscape that have bare soil. This can be aesthetically pleasing while suffocating your weeds and preventing them from germinating.
Spray: You can choose a contact weedkiller product to prevent weeds or kill them. Preparatory sprays are best for bare soil areas but selective weedkillers can be used on your grass too. Be sure to dilute and use these sprays according to their exact label instructions.
Systemic Weedkiller: If you have small areas of weeds, a systemic weedkiller can be very effective, though it requires a more laborious process. Essentially, the chemicals are applied to the leaves of the weeds. which eventually gets absorbed into the roots and kills the plant.
Manual Removal: If you prefer to manually remove your weeds, at least choose the correct tools. A fork or daisy grubber is often best so that you don't cause too much damage to your lawn and you avoid cutting through perennial roots (which propagates the weeds).
If your weed problem is too much for you to handle or not something you want to deal with at all, call the Pannone's Lawn Pros & Professionals. We are experts when it comes to removing weeds and providing customized treatments to restore the appearance and health of your lawn.