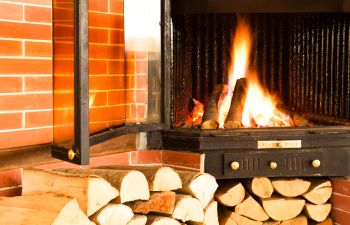 We can't think of a better time than now to invest in an outdoor fire pit. Not only does the winter season create an ideal chance to complete any hardscape project completed, but you can start using your fire pit right away as the temperatures stay low.
With social distancing guidelines still in place, this year brings the additional valued benefit of having a cozy outdoor space where guests can mingle and enjoy each other's company at a safe and open-aired distance. Now that you realize the advantages of installing an outdoor fire pit in this winter, let's take a look at your options.
The goal of any fire pit is to bring warmth. However, not all fire pits are created equally. Some designs are focused on aesthetics while others may have features that are more convenient (portability) or functional (outdoor cooking). Understanding your personal style, needs and goals for your outdoor fire pit is the first important step.
Here are four common styles of fire pits to help you determine the best option for your backyard landscape:
#1 Stone Wall

A classy look that works well in both patio and grassy areas. While typically fixed in place, stone wall fire pits offer stunning aesthetics for those who want their outdoor fire pit to be a focal point in their landscape design. These above-ground, circular fire pits come in various stone sizes, colors and textures to fit your needs.

#2 In-Ground Pit

If you want a fire pit that is more subtle or natural-looking, you may opt for an in-ground version. In-ground fire pits can still be dressed up with stone, brick or other materials to match your backyard design. A landscaping expert can construct your in-ground fire pit to prevent wet dirt and moisture from quenching the flames.

#3 Cowboy Campfire

These are the original fire pits, or the one a cowboy could use for cooking and warmth after a long day. If you intend to use your outdoor fire pit for cooking, this may be your solution. A cowboy fire pit is typically built to withstand and inhabit much larger and hotter flames so that it can be functional. Many people choose to add hooks or griddles to this type of fire pit.

#4 Portable Globe

For those that are not willing to commit to a permanent location for their fire pit, a portable globe can be an excellent choice. This is a smaller globe-style fire pit that can be easily moved around your yard, patio, pool or other outdoor features. Portable globes offer ideal convenience and easy enhancement to your small or large outdoor gatherings.
At Pannone's Lawn Pros & Landscaping, we proudly offer a full menu of styles and sizes in outdoor fire pits. Contact us today and let us create and install an amazing outdoor space for your family and friends this winter.