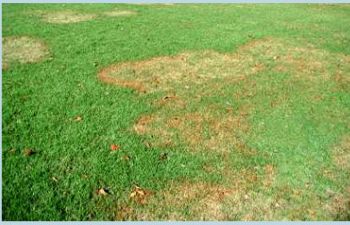 Insects are a part of nature. While gnats and mosquitoes can just be plain annoying, there are other pests that can cause trouble within your lawn. In fact, Georgia is known for some pests that attempt to feed off your green lawn and sabotage your plants and flowers. While these pests are no bigger than your palm, they can deliver some major damage to the health and appearance of your landscape. Before you can invest in prevention tactics to ward off these pests, it is helpful to recognize exactly which insects are the culprit.
Here is a closer look at four of the most common pests in the Georgia region:
Army Worms

While they may resemble a common caterpillar, army worms can do extensive damage to your lawn. In fact, this insect can produce eggs that spread across your green lawn and eventually produce patches or circles of brown. The late summer to early fall is a common time to see the repercussions of army worms on your landscape.

Japanese Beetles

While you may not prefer Japanese beetles nesting on your lawn, it is hatched eggs of these beetles that really cause issues. Commonly called "grub worms," these young Japanese beetles like to feed on the roots of your grass. This can occur from Summer until Spring! Grub Worms can also display their damage as brown spots across the lawn.

Mole Crickets

An invasion of mole crickets is evidenced by holes in your grass. These holes serve as tunnels so that they can munch on your grass from the inside out, starting at the stems, roots and new growth. Over time, this causes your root system to break down and may result in irreversible damage.

Spittlebugs

These small, dark brown insects with red stripes are known for their attack on plants and shrubs. How will you know? Spittlebugs leave behind a foamy white substance. Check your leaves and shrub branches for this evidence if you notice a certain plant struggling.
We know it is unrealistic to assume you can expect every blade of grass and plant leaf for "bad insects." However, we hope you can recognize signs in your lawn or landscape that indicate a pest problem. At Pannone's Lawn Pros & Professionals, we can handle the task for you. Part of our routine lawn maintenance service include inspecting your landscape for damage caused by pests and fungus. Our landscapers can not only diagnose the problem, but we typically have a prompt solution to ward off these pests and restore the health of your landscape before it is too late. If you suspect a lawn pest problem, call us today to schedule a consultation.