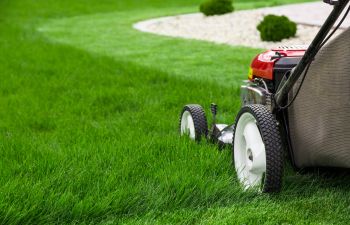 Whether you are trying to have the most attractive lawn in the neighborhood or simply want to avoid a landscaping eyesore, you'll need to cut your grass on a routine basis. However, how you mow your lawn can make a significant difference in both its health and appearance. It is easy to blame a lackluster lawn on poor irrigation or fertilizers, but your mowing approach could also be sabotaging your lawn.

Mowing is not all about timing or how often you complete this yard task. Here are some mowing mistakes that are less obvious but no less damaging to your turf:
#1 Mowing with Dull Blades
When is the last time you checked your mower blades? If your mower blades aren't sharp, your grass blades can end up jagged and uneven. While this may seem like a minor imperfection, jagged grass blades makes your lawn more susceptible to disease and pests.
#2 Wet Mowing
Always try to mow at a time when your grass is dry. Mowing grass that is wet from irrigation, rain or morning dew can cause clogs in your mower as well as make it challenging to achieve a clean and even cut.
#3 Mowing in the Same Direction
We are all creatures of habit. However, when it comes to mowing your lawn, it is best if you change it up a bit each time you mow. Mowing in a different direction each time helps to prevent unsightly grooves in your grass.
#4 Cutting Too Short
This is a big (and common) mistake. If you are cutting your grass extra short to avoid frequent mowing, you are sacrificing the health of your lawn. A lawn that is too short leaves the grass blades stressed and susceptible to disease. When it comes to mowing height, most grasses do well with 2.5 to 3 inches.
Avoid Mowing Mishaps and Hire a Lawn Professional
Not sure you can foster an attractive lawn while protecting its health? Mowing isn't as simple as you may think. To ensure your lawn gets the proper cutting and maintenance it needs, hire an expert from Pannone's Lawn Pros & Landscaping.