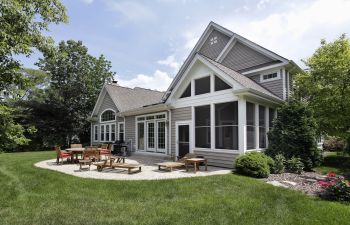 We've arrived at that time of year in Georgia, when an afternoon thunderstorm makes its debut more days than not. While it's nice to cool off after hours in the beating summer sun, too much rainfall in a short amount of time could cause issues with your landscape. When it comes to protecting your plants from washing away or suffering rain-related fungi, drainage is key.
Whether you have plants, shrubs, flowers, or vegetables, you can have too much of a good thing. While water is essential to your landscape vitality, excessive rainfall can wreak havoc. It important to have these three tips in mind when protecting your landscape from heavy rainfalls:
Raise Your Beds

Raising the bed of your plants and flowers can create a well-drained soil environment. Aim for about 6 to 12 inches above the surrounding soil. This will allow the soil to drain and dry out faster than ground-level beds. Raising a bed is easy and happens naturally when you add organic matter and turn the soil before planting. Be aware that if there are times of drought, you may need to water these higher beds more than normal.

Consider a Drainage System

There are times in which your plants just can't escape a washout. This may be corrected by installing a drainage system. A professional landscaper can help you engineer the most appropriate solution for your poor drainage. This can take the form of degrading your landscape or installing a dry creek bed.

Mulch It

Mulch provides an excellent ground cover. It is not only aesthetically appealing but it can also help your plants avoid fungi. Splashes of water can easily spread diseases that result in black spots, blight and other unwanted problems. Mulch not only prevents splashing while it's raining but it can retain soil moisture during dry spells.
For more tips on how to protect your landscape health during excessive rain, consult Pannone's Lawn Pros & Landscaping. We have an experienced and skilled team who understand drainage solutions.