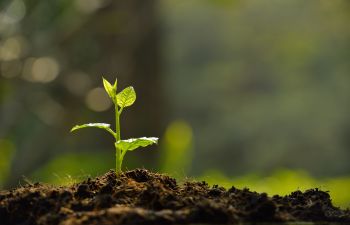 If you've invested time and money into your landscape, it is important to protect its condition and appearance. Unfortunately, weeds can be one of the strongest and most stubborn threats to your landscape. Therefore, beyond general lawn services (like mowing, trimming and fertilizing), it is important to include weed control in your overall landscape maintenance.
Weeds are pesky plant growths that need to be controlled and removed. If not, weeds can take over your yard and kill the landscape you've worked so hard to create and maintain.
#1 Weeds Starve Your Plants and Shrubs
Weeds have a tendency to grow and spread quickly. As they do so, they absorb a large amount of nutrients from the soil and starve your existing plants of the nutrients they need to thrive.
#2 Weeds Lead to Other Landscape Issues
Since weeds can "hog" the nutritional content of the soil, they contribute to an overall soil imbalance. Over time, plants become more weak and vulnerable to disease, pest infestation, and drought.
#3 Weeds Can Be Dangerous to Your Family
There are weeds that grow in Georgia that can not only harm your landscape but pose danger to your kids and pets too! Pokeweed is an example of a toxic weed that if ingested, can cause serious health ramifications ranging from fever and weakness to stomach issues and liver failure. Effective weed control can reduce or eliminate this risk so that your family can enjoy your landscape without fear.
Save Time & Money With a Professional Weed Control Plan
At Pannone's Lawn Pros & Landscaping, we realize the critical value of proper weed control when it comes to your landscape. While it may seem like an unnecessary additional cost, a weed control investment can save you incredible amounts of time and money. Without proper control on the front end, weeds can become very aggressive and more difficult to remove with time.
Don't let pesky weeds ruin your landscape in Georgia. Call our Cumming lawn care team for affordable service and knowledgeable advice when it comes to weed control.