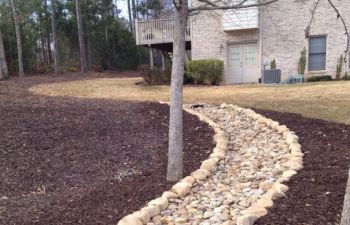 Few of us have the perfect lot and landscape. There is often at least one trouble spot in each yard; an area that plants and grass simply won't grow well. For many homeowners, installing a dry creek bed can eliminate these problem areas. Here are three main reasons why customers choose dry creek beds in their landscape:
#1 Erosion Control

The primary reason that people opt for dry creek beds is to solve erosion and drainage problems in a sloping yard. If you are tired of watching your landscape slowly wash away every time it rains, consider installing a dry creek bed as a simple and attractive solution. Your aggravating erosion problems will transform into a tranquil sight of water flowing across an assortment of natural stones and boulders. A dry creek bed is designed so that the excess water is diffused between the gravel, stones and boulders of the bed, allowing the ground to remain firmly in place underneath.

#2 Poor Grass Growth

If you have shady areas in your yard that grass struggles to grow, consider a dry creek bed instead. Homeowners also find that this landscaping solution works well for areas that have grass that is too steep to mow. When the rain isn't falling, dry river beds can also serve as an attractive rock garden with your selection of hearty plants.

#3 Garden Focal Point

A dry creek bed can be an environmentally friendly and natural design element in your landscape. In addition to controlling erosion and improving drainage problems, dry creek beds can be customized to highlight your specific style and be a focal point in your garden. Choose from many different kinds of stone to customize a dry creek bed to accent your personal outdoor area. Dry creek beds are very easy to maintain, as they may only need an occasional blowing of leaves and debris to keep it looking best.
Pannone's Lawn Pros & Landscaping are experts when it comes to solving your drainage problems. They implement a full range of services, from French Drains to dry creek beds, to protect your landscape.